Description
A fine and rare French 19th-century carved bombé commode retaining its substantial and original Rouge Royale serpentine-marble top.
This exceptional French bombé commode – sometimes described as 'galbée en tombeau' – has all the hallmarks of a sophisticated patron commissioning a maître ébéniste to produce a masterpiece in the French Régence manner (1715-1723), avoiding the ostentation of costly commodes covered in marquetries of different woods, often contained within vulgar ormolu mounts typical of so much furniture of the 18th- and more particularly of the late-19th century. The objective was to encourage the question: "how much did it cost?" in an attempt to impress.
Most are now on static display in museums and châteaux in France and pseudo châteaux in the UK, Europe and the USA.
This beautifully-controlled, superbly-carved, two-drawer oak commode will reflect the sophisticated good taste of a new owner, combining usefulness with sublime beauty. The drawer fronts are individually mounted with fine gilded bronze pulls.
Certainly very rare, if not unique. This expertly-carved commode will prove a significant addition to any interior, antique or modern.
A central cartouche illustrates music as one of the Arts. In the Grecian manner a young female is depicted playing a lyre whilst an attending cherub holds the music score open, and others blow trumpets heralding judgement day, the resurrection and entry into Heaven.
Nb.
It has been suggested that the female depicted on this commode could be Erato, the Muse of lyric poetry, particularly erotic poetry, and mimics imitation. In the Orphic hymn to the Muses, it is Erato who charms the sight. Since the Renaissance she has mostly been shown with a wreath of myrtle and roses, holding a lyre, or a small kithara (a musical instrument often associated with Apollo).
Literature: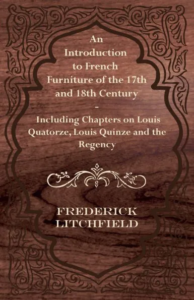 References:
https://www.timothy-corrigan.com/antiques/knowledge-center/french-furniture-styles-regence-style-1700-1730
https://en.wikipedia.org/wiki/Lyre