The 'China' taste was all the rage in Europe starting in around the mid 17th Century and continuing throughout the entire 18th Century, with several 'revivals' following on in the later 19th and the early 20th Cent. This taste was also referred to as 'India work', 'Japanning' or 'Chinoiserie '.
The greatest manifestation of the 'China' craze in England is to be found at the Royal
A visit to the V&A Museum 'Style Guide Chinoiserie' will also be worthwhile.
www.vam.ac.uk
'Fabulous' tales of China and India came back via early travelers and many in Europe tried their often quite amateurish hands at interpreting these 'tales' in the applied arts. Some achieved skilled lacquering techniques of the very highest quality especially in France, leader at the time in extravagant fashion in Europe during the reigns of Louis X1V, Louis XV and Louis XV1.
The finest Chinoiserie items originated in China and Japan often in the form of panels which were exported and assembled in Europe. Transport costs were enormous with journeys hazardous. 'Flat packed' panels were the most viable, returning as cargo in the sailing ships. Exotic hardwood boards also travelled on sailing ships, often as ballast on deck to be worked on arrival by cabinet makers in Europe. From around 1700 huge quantities of mahogany were brought to Europe in this way from the West Indies, Cuba and the Americas.
Lacquered surfaces usually exhibit typical mythological 'Chinoiserie' scenes, interpreted by an artist's own vision of chinamen, pagodas, bridges, rockwork, pavilions, palms, gardens, horses, butterflies, the 'Kylin' and the 'Phoenix' bird.
Kylin :   A mythological celestial animal from ancient Chinese history. Part deer, part horse part ox. Associated with longevity and believed to convey good luck and protection. To the Chinese the Kylin also demonstrates, inter alia, a refined cultural awareness.
Phoenix :   Much used in the applied arts. First recorded in Asia some 8000 years ago. A mythological symbol of high virtue and grace. The Phoenix also features in Greek mythology.
"Chinoiserie' lacquered furniture when 'in period' is extremely rare, sought after, and commands high prices. Beware of many 19th and early 20th century fakes often carefully lacquered on old carcasses to deceive.
[fusion_builder_container hundred_percent="yes" overflow="visible"][fusion_builder_row][fusion_builder_column type="1_1″ background_position="left top" background_color="" border_size="" border_color="" border_style="solid" spacing="yes" background_image="" background_repeat="no-repeat" padding="" margin_top="0px" margin_bottom="0px" class="" id="" animation_type="" animation_speed="0.3″ animation_direction="left" hide_on_mobile="no" center_content="no" min_height="none"]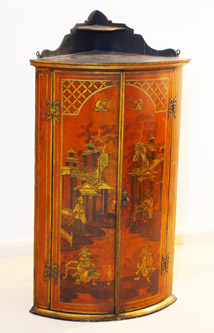 Most often 'in period' lacquer is seen on a black lacquer ground but is also occasionally seen on a red or green or blue lacquer
ground. Rarest of all would be a cream ground.
With English lacquer work look for  'freely' and rather frivolous, naïvely executed designs with raised elements.
Evidence of old restoration and craquelure on what are extremely vulnerable and fragile surfaces created 300 years ago will help you in reaching an overall conclusion in confirming authenticity.
Anyone interested in preservation and restoration should consult the Smithsonian Conservation Institute.  email:
MCIweb@si.edu
Dominic Schuster of Dominic Schuster Ltd. is one of the world's leading restorers of antique lacquer surfaces.
www.dominic-schuster.com
[/fusion_builder_column][/fusion_builder_row][/fusion_builder_container]