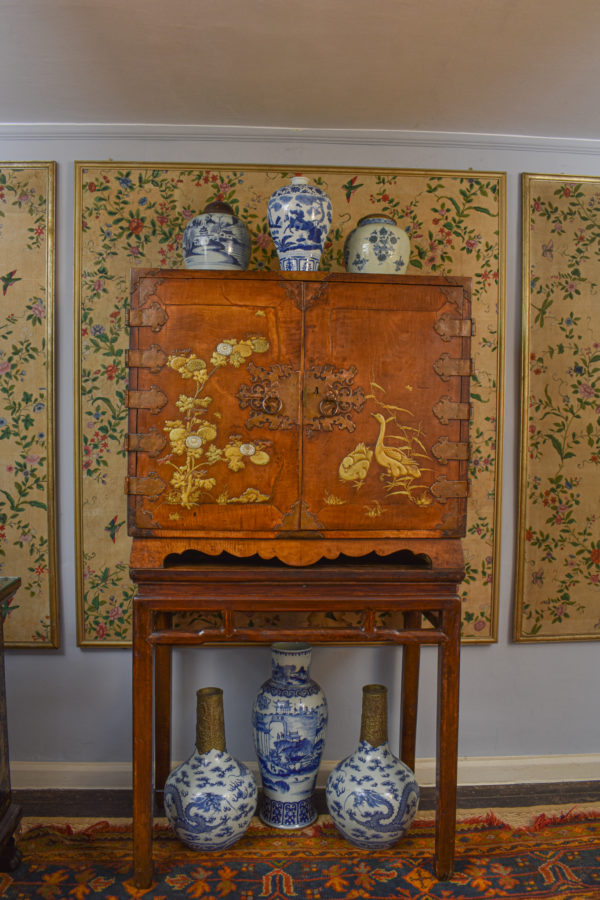 This fine and exceptional two-door, gilt-heightened cabinet, apparently in Izu mulberry wood – decorated in the typical Japanese manner with objects of reverence – opens to reveal a number of graduated fitted drawers, including a secret compartment. The drawer fronts decorated beautifully with gilded branches, black leaves and red flowers. The ivory crysanthemums – along with further embellishments of delicate red and black details – and the geese (along with tiny insects) to the door fronts are exquisite. The interior of the doors gilded with birds and what appear to be mulberry fruit issuing from branches executed in black and gold.
Retains its side-carrying handles and a working door lock within the elaborate escutcheon; all mounts very-admirably worked. This antique is in excellent condition, of deep rich colour and patina.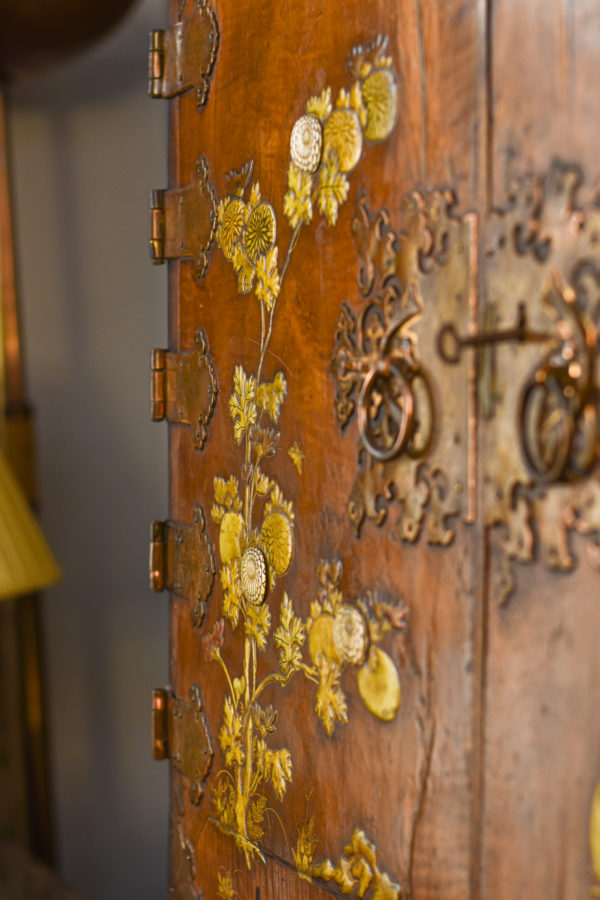 According to Dr Stephen J Bowe, Senior Lecturer at Liverpool John Moores University and author of Mulberry (2016), antique cabinets were lacquered in Japan on very rare mulberry wood from the Japanese Izu Islands.

Mulberry wood from Japan's Izu Islands was historically imported from Japan into Europe for wealthy, mainly aristocratic collectors. This wood from these Islands has become the world's most expensive wood, the most sought-after of all is Shimakawa, or Island wood, from mulberry trees that grow exclusively on the Izu Islands of Japan. 伊豆諸島
Export lacquer cabinets destined for Europe were later raised on stands as the Japanese traditionally sat on the floor.
The goose in Japanese art narrative represents, inter alia, poetry and autumn. The rooster was domesticated thousands of years ago, where it was hailed for its 'benevolence, faithfulness and courage'. The chrysanthemum (depicted on the cabinet door front) is the emblem of the highly-revered Japanese Imperial family.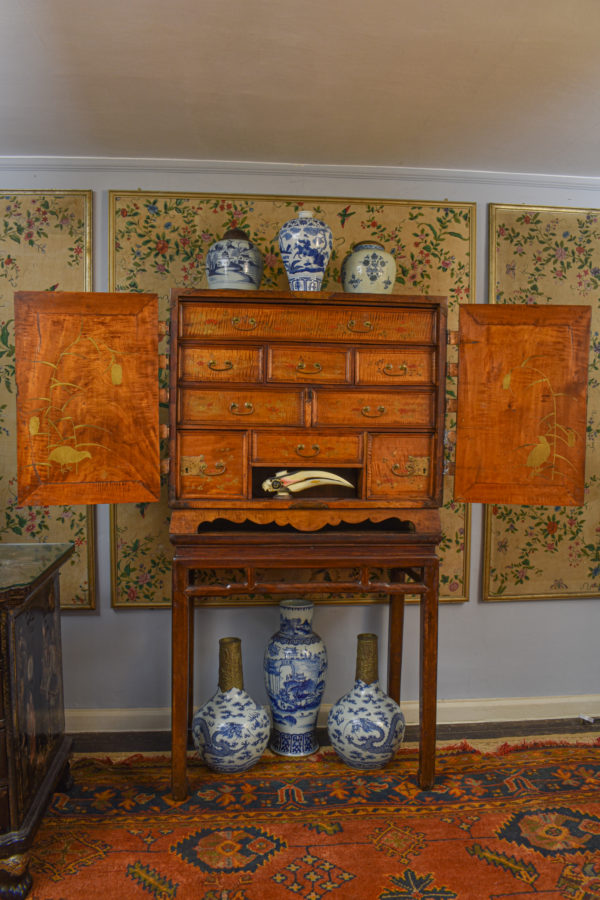 One usually thinks of mulberries either in terms of fruit and leaves used to feed silkworms, or for their individual beauty as ornamental trees. For centuries slow-growing mulberry has been highly prized by the finest early Japanese cabinet makers. Mulberry also appears in English late-17th century furniture. Sometimes stained sycamore was used as a substitute.

Now a nature reserve, with highly restricted access, the Izu islands have become "extreme" destinations. Frequent seismic activity and very high levels of sulphurous gases are a significant hazard for visitors who may have to wear gas masks. This hostile environment has bestowed unique properties on the island's indigenous mulberry trees. Morus kagayama, or island mulberry trees are now protected by law.
The best quality Shimakawa has a grain pattern that takes many pages in Japanese to describe and is hard to translate into English. It has been likened to a stone being dropped into a pool creating a pattern of surface ripples.
The Edo or Tokugawa period (1603 – 1867) in the history of Japan spans the era under the rule of the Tokugawa shogunate and the country's regional daimyo.

References:
V&A Explore The Collections – Cabinet on Stand
Mulberry: The Material Culture of Mulberry Trees