In early times we all sat on the ground gradually elevating ourselves onto low stools or benches. Around the end of the 14th century the first of the chairs as we would recognize them today evolved. They were initially reserved for the clergy, nobility and prominent people who required to be seated at a 'superior' level.
The simple bench, of the most basic construction, gradually became more ornate acquiring a solid back and arms. This 'new' chair was referred to as a 'wainscot' chair from the early Dutch word 'wagenschot'.  You are unlikely to encounter antique chairs for sale much before this period.
From the later 17th century antique chairs demonstrate a transition away from the 'wainscot', as they take on a more recognizable form.
At the end of the 17th century advances were gaining momentum with such cabinet makers as Giles Grendey and Daniel Marot, who were active in England during the William & Mary period.
With the accession of Queen Anne we see antique chairs evolving to perhaps reach the ultimate levels of refinement.
With George I coming to the English throne we witness strong 'German' influences in designs.
When viewing antique chairs from the 18th century proper we witness designs flourishing thanks to several eminent English cabinet makers such as
Thomas Chippendale 1718-1779.  I highly recommend a visit to this website.
Thomas Sheraton 1751-1806
George Hepplewhite 1727- 1786
The above are referred to as 'the big three' English chair designers.
When poor old George III was thought unfit to rule, his son the Prince Regent took over and a whole new fashion emerged. This short period from 1811 to 1820 produced some extraordinary and unique chair designs. A day out at the Brighton Pavilion is not only educational, but fun.
Tips when considering antique chairs
Chairs break for obvious reasons. Overweight diners leaning back is one.  The construction of chairs leads inevitably to weak areas particularly where the seat rail meets the upright or 'stile'.
Look carefully for serious breaks and splicing. Avoid these as it is impossible to restore these defects without resorting to major work.
All the above designs of English Antique chairs were heavily reproduced in the 19th and 20th centuries. You will need to consult an expert to recognize them. Some of these reproductions are excellent and much sought after having acquired some of that all important patina of age!
Antique chairs in the Box House Antiques Collection
We always display a good selection of antique chairs from circa 1600 through to the 19th Century. These chairs are still as useful today as they ever were. At the same time they will add style and elegence to your rooms.
George II Style
Walnut Open Armchair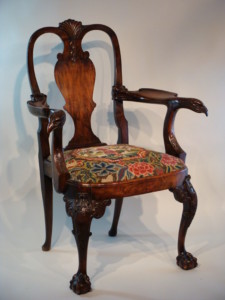 A Set Of Six
Red Lacquer Chairs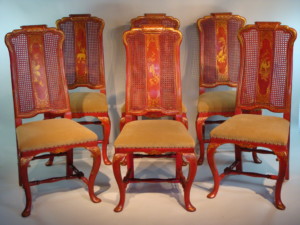 For the rest of our chairs in our stock please visit Box House Antiques.