A general and very elementary introduction to 'Chippendale' for enthusiastic beginners:
"Chippendale" is a rather overworked description attached to anything vaguely similar to some of his designs and could have been made anywhere between 1750 and 1930.
'The Gentleman and Cabinet-maker's Director' was published in 1754 and details much of the actual designs carried out in his workshops.
He set the fashion in his day for others to emulate, which some did with great success.
The name 'Chippendale', applied to furniture, implies it is of the school of cabinet makers that followed Chippendale's designs. It by no means implies that it was made in his shop on St Martin's lane, London. His designs largely followed those of the Dutch cabinet makers at the end of the 17th century and refined during the reign of Queen Anne. The designs then became more ornamental and North European in taste with the Hanoverian succession just after the death of Queen Anne in 1714.
A typical 'Chippendale' style evolved, losing much of its Continental pedigree around the 1750's, shortly becoming quintessentially 'English' and highly refined. French, Chinese and Gothic elements were also much in favour by Chippendale and his followers. The Rococo taste was imported from the Continent and adapted by Chippendale for his English market.
Chippendale's square legs had the inside angles chamfered, plain moulded, or with a fretted design either 'open' or 'blind'. Often a stretcher was incorporated between the legs.
His cabriole legs were frequently carved on the knee terminating in a 'ball and claw' foot with its origins in ancient China. Other forms of foot also appeared such as the 'French scroll' and other Rococo forms including the 'block foot'.
With increasing activity by the Honourable East India Company, founded in 1600 and disbanded in the second half of the 19th century, imports of Chinese goods became very much in fashion during Chippendale's lifetime, and these exotic designs were reflected in some of his work. Trellis, pagodas, Chinamen and fretwork were all reflected in Chippendale's designs. The Gothic taste was interpreted from Gothic architecture. Chair backs evolved with pierced splats and ribbon ties.
Much so-called Chippendale furniture was copied with several 'revivals' occurring in the early and late 19th century. Inferior in every way to proper 18th century furniture. The early, tight grain West Indian imports of mahogany were drying up and poorer quality mahoganies were being used. The weight of the item is often the best give-away.
Much Chippendale designed furniture was supplied to the stately homes of England. Unlike their French counterparts, English cabinetmakers very rarely signed their work, thus inevitably few written invoices survive. However Corsham Court in Wiltshire contains some original and documented examples. It is not within the scope of this very brief introduction to include a discussion on Chippendale's spectacularly handsome looking glass designs,` which are well documented elsewhere.
See below a pair of Chippendale period carved side chairs in mahogany Ca. 1760 from Box House Antiques:
[fusion_builder_container hundred_percent="yes" overflow="visible"][fusion_builder_row][fusion_builder_column type="1_1″ background_position="left top" background_color="" border_size="" border_color="" border_style="solid" spacing="yes" background_image="" background_repeat="no-repeat" padding="" margin_top="0px" margin_bottom="0px" class="" id="" animation_type="" animation_speed="0.3″ animation_direction="left" hide_on_mobile="no" center_content="no" min_height="none"]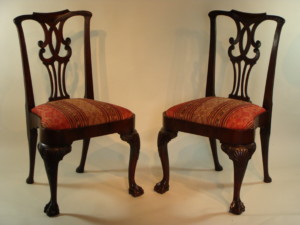 [/fusion_builder_column][/fusion_builder_row][/fusion_builder_container]