American ? Here are a few key points to look for.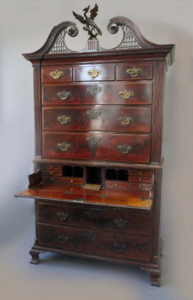 This fine mahogany secretaire tall chest Ca. 1750 is without doubt English however it could well be a prototype for the American "Tall Chest attributed to Thomas Affleck 1740-1795 " in the New York Metropolitan Museum. Accession number 1975 91 Gallery 751.
We can establish this by examining carefully the 'secondary' woods used in its construction. The oak used in this carcass is clearly of English origin whereas, with its American cousin, the secondary woods would be of locally available native woods i.e cherry, chestnut, American yellow pine, white cedar, tulip poplar etc. Check out 'plant anatomy Kew Gardens' for identification : Dr Peter Gasson will be your man there They have a facility for identifying samples of woods sent to them for analysis.
Further to examining the presence of secondary woods we should also pay attention to proportions which, in American furniture are rather different from English proportions with the possible exception of Irish and Scottish designed furniture which can reflect similarities and can sometimes be confused with American designs.
It is clearly very important to establish nationality in understanding the value of a piece of antique furniture as authenticated Period American Antique furniture, being very rare indeed, will command an extremely high premium. It will be alas unlikely that you will come across a piece of geniune high quality, period American furniture. Most are fully documented, in collections/museums or offered for sale by a handful of highly specialized dealers, but you never know !
Take a look at the Secretaire 'Tall Chest' in our stock View here
For further study check out 'American Furniture' by Wallace Nutting. (wikipedia)
also :