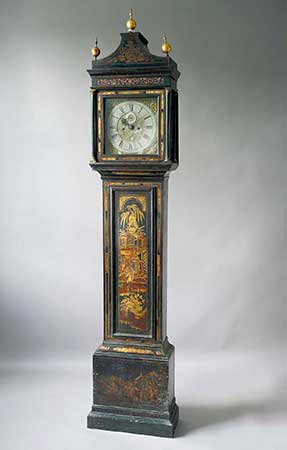 Antique clocks history
The earliest antique clocks for measuring time would have been water clocks and sundials. These were replaced later with such inventions as calibrated wax candles and the 'hourglass'. These in turn were to be ultimately replaced in the mid 17th century by the 'pendulum' clock.   The word clock has its origins in the word for a bell. Sound was very important to the rhythm of life. Bells were usually placed in towers to signal time.   Interest in astrology, astronomy, navigation and showing vital information relating to the state of the tides encouraged further refinement of clocks and their mechanisms.
 A medieval mechanical clock can be seen today in Salisbury Cathedral. A vast amount of related  information can be had at :
The quest for accuracy soon saw spring-driven devices with escapements. The 15th and 16th centuries in Europe saw advances and in the mid 17th century the first of the pendulum clocks emerge. These first appeared in Holland but soon were taken up in England. These developed into the 'long case clock' familiar to us today. Some refer to these as 'grandfather clocks', which is a 19th term.
The discovery of the anchor escapement in around 1670 to replace the old fashioned verge escapement made possible the development of the long case clock. Each short swing of the pendulum measured one second with power provided by the downward pull of lead weights on pulleys.
English long case clocks with eight day going movements soon developed.
Highly complicated, musical, month-going and astronomical antique clocks were made. Many had remarkably accurate movements, particularly chronometers for precise navigation. These hugely contributed to England's supremacy at sea.
 Anyone interested in antique clocks should possess a copy of G.H. Baillie's 'Clockmakers of the World'.