It is unlikely that you will come across many Elizabethan period items, so your research will most probably start with the English Commonwealth (1649-1660). These periods do have a specialist (if somewhat limited) following. Always be aware that there are many 19th- and 20th- century copies of these earlier periods, due to rarity, and Oliver Cromwell's unruly troops.
I use the word 'copies' as I am reluctant to say 'fakes', as many copies were perfectly legitimately offered (affordably) for sale in the larger department stores during the period 1880-1950, declared as being new. These were popular in rapidly-expanding, price-conscious, 'Jacobethan' English suburbia.
While it is tempting to suggest attributions, we have always been reluctant to do so unless we have clear evidence of an original trade label, or can find the item illustrated in a reliable reference book. These days you will see endless pages of caveats, non-committal euphemisms and 'attributions' printed at the back of auctioneers' catalogues. Experienced, well-established dealers don't do this.
Most English cabinet-makers remained unrecorded, unlike their Continental counterparts.
You will notice some short gaps in dates below, but I omit them for simplicity's sake and that unless authentically and physically dated, it is almost impossible to associate items with firm dates.
Furthermore, please remember that during these early periods the latest fashions took considerable time to reach the provinces, hence an inevitable overlap with items termed 'country made'.
After the Restoration of Charles ll (1660-1685) from exile, you encounter a much broader selection of fine old furniture. For example, browse these items dating from the 17th-century period, which we are able to offer on
www.boxhouse-antiques.co.uk.

A Rare Charles II Chest
A wonderful early chest / cabinet – a rare survivor from the Charles II period: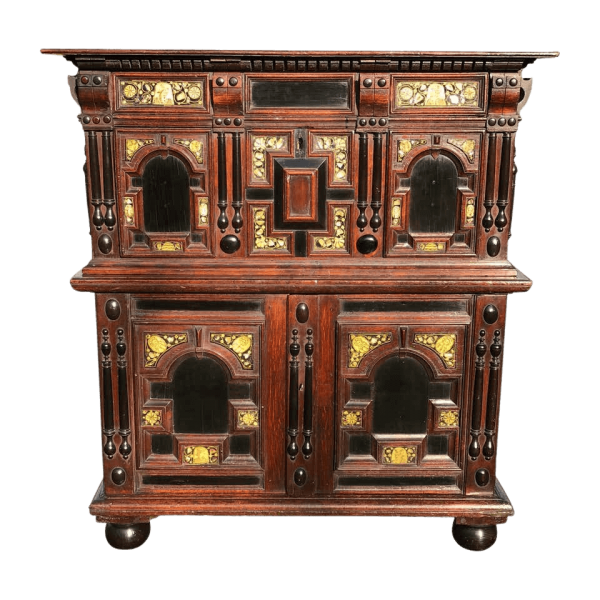 A fine and rare, closely-matched pair of late-17th century oyster walnut chests on stands. Charles II period, ca 1685: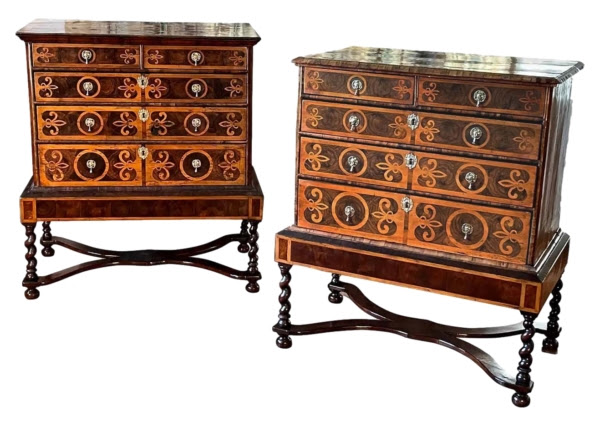 A rare William & Mary period walnut double-dome bureau bookcase / cabinet: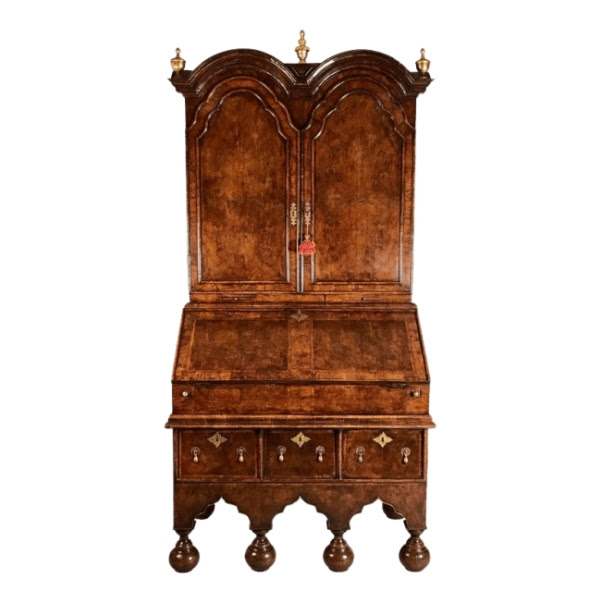 A 17th-century oak refectory table. Charles II period, ca 1675: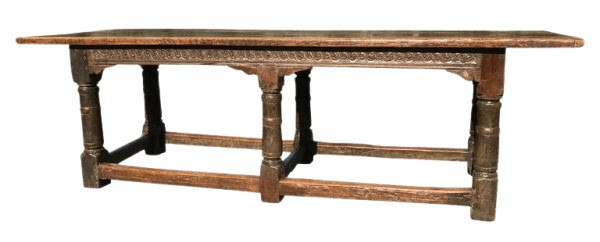 We then begin to enter a period of further Continental influence with the accession of William of Orange – a period which is usually referred to as
William and Mary (1689-1702).
This period incorporates an expanding craze sweeping across Europe and England for Chinoiserie, in furniture expressed in export lacquer wares coming in via the East India Company and VOC on sailing ships, and also produced domestically by often very skilled dilettantes.
It is interesting to note that one of the greatest exponents of refined taste, Coco Chanel, was a huge fan of lacquer wares, and furnished her Paris apartments with superb export furniture, including screens for concealing doorways and creating intimate spaces.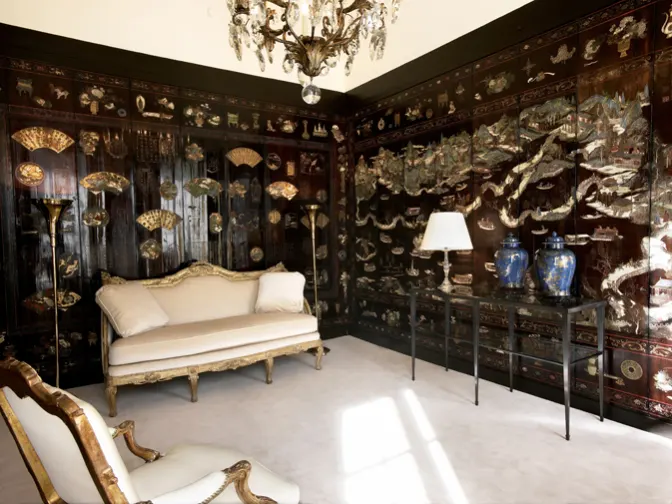 A fine-quality Chinese export red lacquer occasional table. Ca 1820: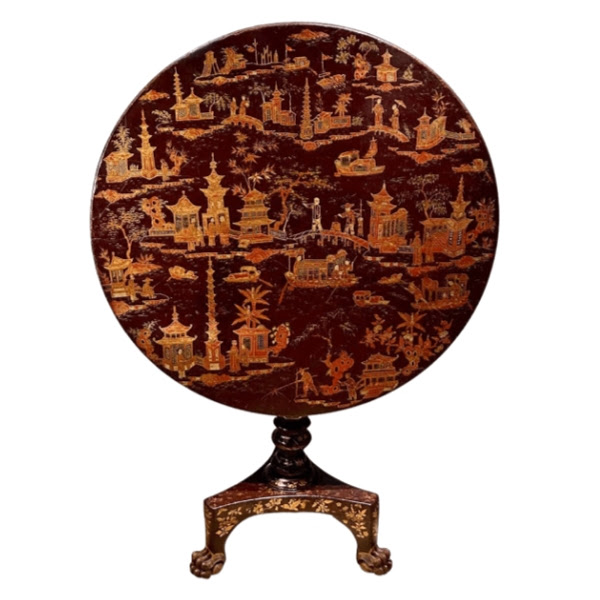 Many of the European Royal houses followed the craze for all things chinoiserie, nowhere more so than in the German and Austrian Baroque palaces. One of the most remarkable being Baltasar Neumann's extravagant Wurzburg Residenz, full of the baroque and fabulous asymmetrical rococo, with ceilings by Tiepolo.
Well worth your visit.

A mid-18th century Rococo carved giltwood mirror, circa 1740: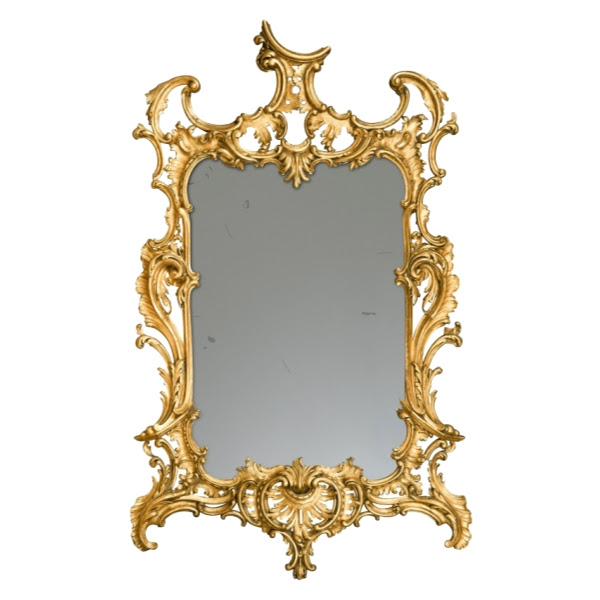 We move on now to the period of Queen Anne (1665-1714). A tragic Queen who miscarried or had given birth to stillborn children at least 12 times. Of her five live-born children, four died before the age of two. This quintessentially English period produced what many claim to be the ultimate in furniture refinement – curious, as it bore scant resemblance to what went before, or for that matter what came after. Smaller items for smaller houses and rooms.

See our fine Queen Anne silver table (ca 1710), unusually with twin candle slides, and superbly-drawn cabriole legs: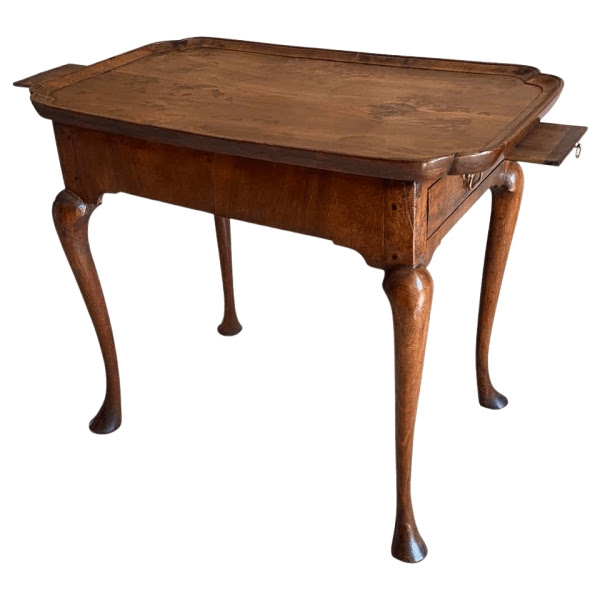 An early-18th century walnut bureau bookcase / cabinet. George I period, ca 1725: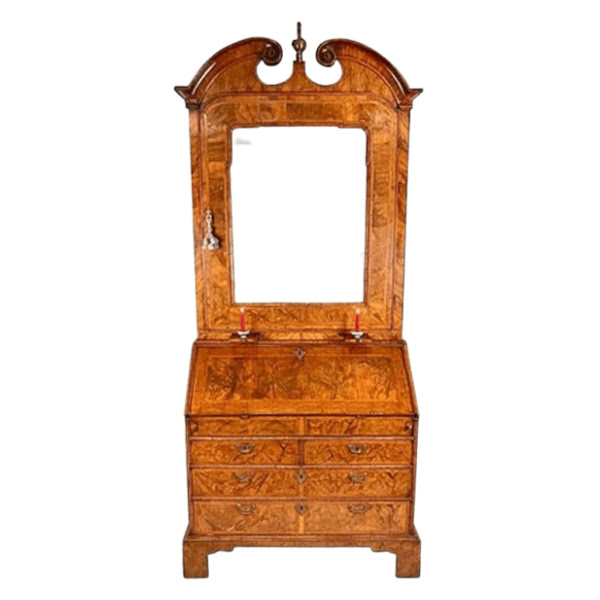 Queen Anne furniture was largely made from carefully-selected walnut, both in the solid and veneered, with carcasses usually of softwood providing an open-grain surface for veneers to adhere to. The simplicity and pure forms produced at this time takes the cabinet maker's art to a sublime level much sought after, rare, and always expensive. However, beware of copies, as there were numerous, later, fashionable, 'Queen Anne' revivals even up to the early 20th century.
It is now "all change". There is a vacancy on the throne of England, and the Elector of Hanover is selected in 1714. He becomes George l. Seems an odd choice as he spoke little English, but his Protestant credentials were what England wanted especially after the devious James ll. George l frequently returned home to Hanover, dying in 1727, to be succeeded by his son who became George ll.
After the accession of German princes to the English throne, styles gradually evolved. Browse items in our inventory, some are a little transitional dating from around 1680-1720, give or take a year or two.
We can now move on to George ll (1727-1760). Although German, born in Hanover, we witness a gradual anglicising taking place. This was the time of the first imports of mahogany and exotic tropical woods into England around 1720, with a distinct 'Englishness' developing and finding favour with the wealthier classes. This is the dawn of a period of superb English cabinet making with names such as Thomas Chippendale, George Hepplewhite and Thomas Sheraton.

An exceptional pair of English George ll period carved walnut library armchairs: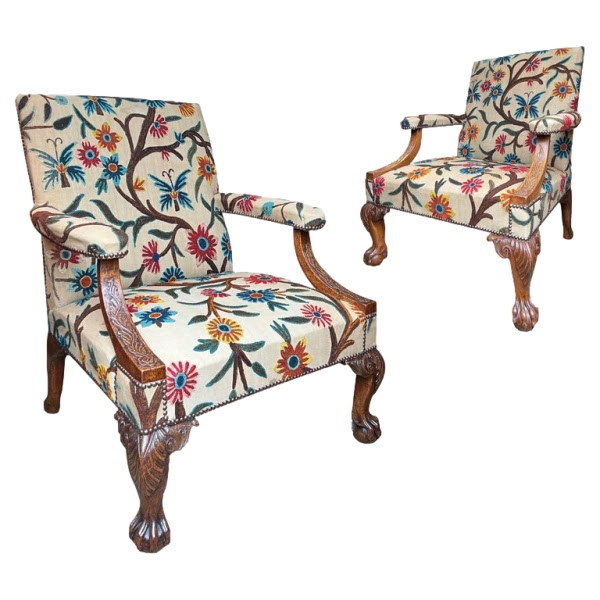 A small mid–18th century mahogany bureau bookcase / cabinet: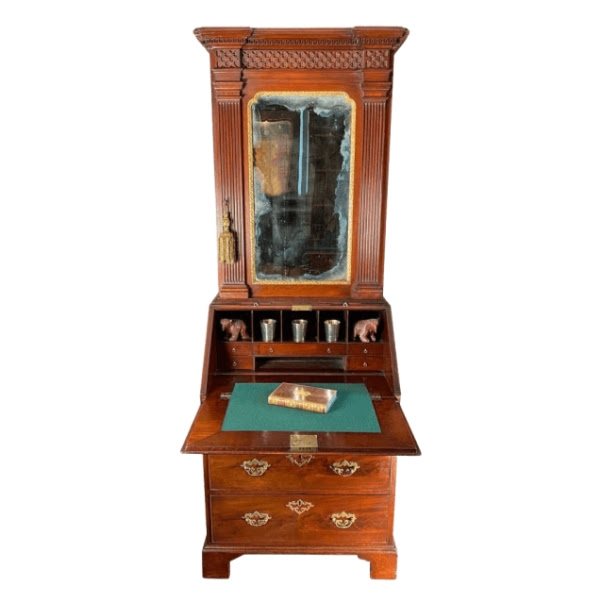 A good Chippendale period mahogany Gainsborough armchair circa 1760: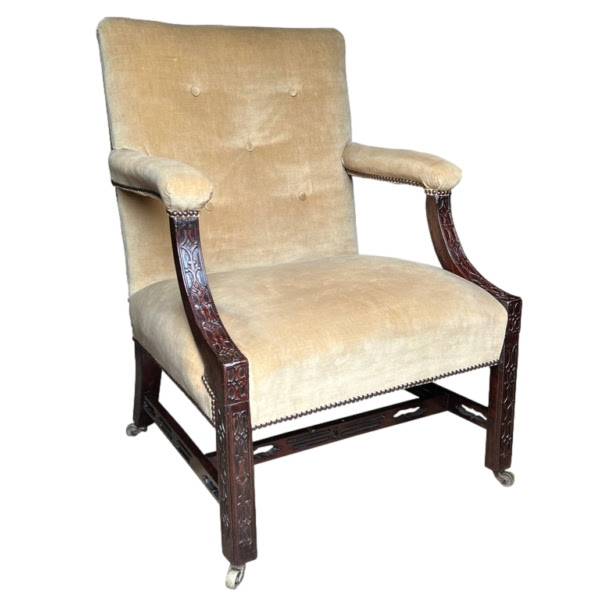 George lll came to the throne in 1760 – a very English monarch compared to his predecessors. The Georgian period runs right up to the death of his son, the dissolute and flamboyant George lV (d 1830).
This is a long and varied period, impossible to document in any detail in this short article.

A fine Chippendale period satinwood and marquetry desk: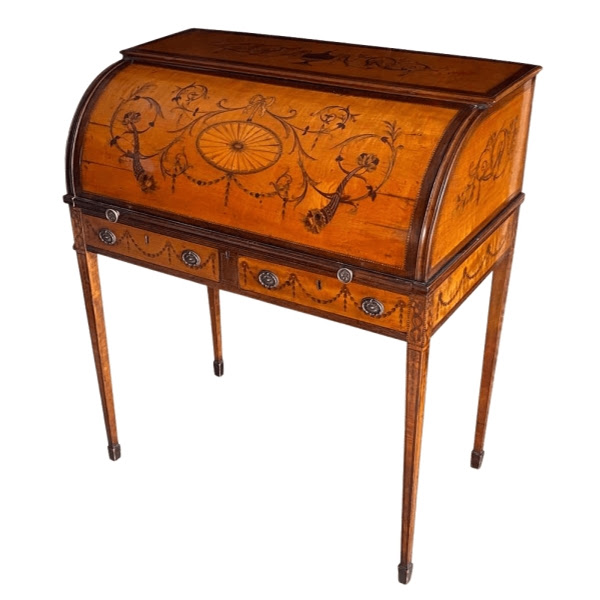 A fine English George III period carved and gilt gesso mirror, ca 1765:

A fine and rare cellarette, or jardinière, attributed to Thomas Hope, ca 1810: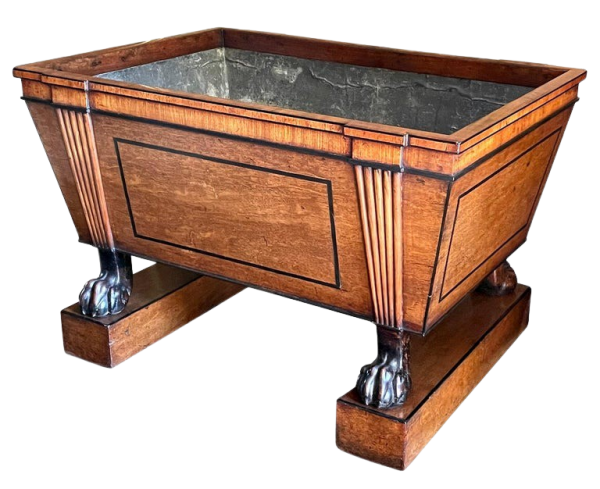 William lV's short reign (1830-1837) produced rather large, ponderous furniture which we will not look at here.
Victoria succeeded William lV in 1837, and was Queen of England until her death in 1901. A long period generally eschewed by the more traditionally-minded collector. This period encompasses many '18th-century revivals' which find favour with some specialised collectors.

All items we offer are wholly owned by us, and not all make it onto the website www.boxhouse-antiques.com